One trait that best defines moms is their being selfless — always ready to make sacrifices for her family and her kids. This is particularly seen during these difficult times where mothers, particularly those in the frontlines, have stepped up to be the first line of defense of both their household and the community.
Honoring their heart for service, Lactum 3+6+ released a campaign tribute that pays gratitude to real-life moms who are at the frontlines, sharing their healing care to their fellow countrymen. Each of these women have their own motivations that keep them strong amid the crisis, but what they share in common is that they are true models of panalo parenting in these hard times.
Duty calls
Healthcare and medical workers like mommies Milinda Albario, Patricia Vasay, and Tessa Eusebio have an important role to fulfill in this health crisis. They are among the first responders in the hospitals and emergency rooms, tending to people confined with symptoms of COVID-19.
"When the COVID-19 outbreak hit the country, my ward was converted to an isolation ward receiving patients with the symptoms. As a nurse, I was assigned to closely administer the patients and was encouraged not to go home to avoid spreading the disease to our family," says Milinda Albario. "I was very scared and worried, and I was always thinking about my children at home."
Meanwhile, Patricia Vasay was appointed to the pediatric care ward in their emergency room. "During the first few weeks of the quarantine, I felt proud to be at the pediatric care. But as time went on, I felt frustrated because a lot of my co-workers were getting sick too and I was scared for myself and my son."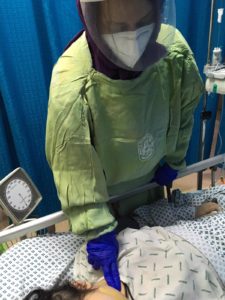 Mommy Patricia Vasay, 33, Pediatrician
"We feel scared because you never really know if you're going to get the virus while at work," adds Eusebio. "But one thing that motivates me as a doctor is love for my family and my countrymen. I believe that it is a blessing to be able to do what you love most and be of service to others."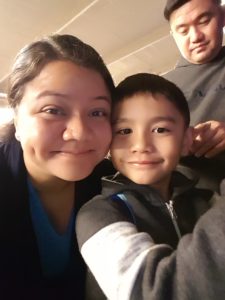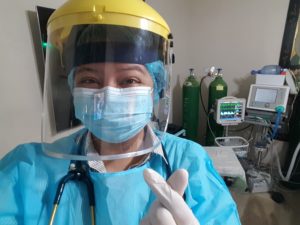 Mommy Tessa Eusebio, 30, Physician
Keeping up with family in the pandemic 
Being at the frontlines has lessened the amount of time spent by these moms with their precious kids at home. However, uniforms and duties aside, these strong women recognize that motherhood still comes first and that the safety of their children is their priority.
Policewoman Fatima Lanuza reflects on what being a mother means to her, sharing, "Being a mother has given me a sense of direction and purpose in life. It also taught me to be selfless and consider that every decision I make will affect my children's future."
Mommy Fatima Lanuza, 33, Policewoman
Currently, she is assigned at the Minalabac Municipal Police Station and is in charge of ensuring that people stay at home during the quarantine. She expresses gratitude for her kids for being her source of energy at the frontlines, "My little ones have been refueling me with their love and appreciation. They would send videos of them clapping as a way to thank frontliners. Just seeing them happy and safe at home makes me feel energized."
Motherhood has also changed the outlook of volunteer worker and mom of 3, Chexcy Lorayna, who shares that her kids helped her become a better person. Despite the risks of working in the pandemic, she never fails to give her children some valuable lessons, "I always remind my kids that when we are serving other people, we are also serving God. I help them understand that other people need my help and seeing them behave and try to understand our situation gives me courage and comfort."
Looking ahead to the future 
"There are so many things that I miss about my kids, especially their hugs and kisses. But what I miss the most is time spent with them," expresses Lorayna. "I believe that love is synonymous with time and I cannot wait to shower them with my affection and attention soon."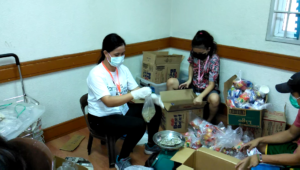 Mommy Chexcy Lorayna, 36, Volunteer
When things go back to normal, these moms want nothing more than to be by their children's side. Whether it's play dates, movie nights, or weekend trips, they are looking forward to new bonding moments and enjoying fun activities with their kids again.
And as these selfless moms continue to be strong and caring for their family and the country, they only have one request for the Filipinos. Lanuza says, "We appeal to everyone to pray for us, the frontliners, the nation, and our families. This pandemic will soon be over. Please do not leave your homes, so we may live for the future."
To help Filipino families affected by the pandemic, a P50 donation will be made for every Lactum 3+6+ purchased online. For the list of online partners, visit Lactum 3+6+ official Facebook page. Watch these moms in Lactum 3+'s touching Mother's Day video on Facebook
(https://www.facebook.com/LactumPhilippines/videos/265270744855878/) and YouTube (https://www.youtube.com/watch?v=TQDstC8BO90). Per DOH-FDA-CFRR Permit No. 0584 s. 2020.