With the current global pandemic driving people to stay indoors, many migrate from the typical office lifestyle to working from home. Shopee, the leading e-commerce platform in Southeast Asia and Taiwan, offers easy access to work-from-home essentials. Here are some must-haves for the perfect work-from-home setup:
A Dedicated Desk
Finding the perfect work desk is possible! Setting the ideal office area is key to getting into that 'work' mindset, after all. Choose a sturdy, yet comfy work table that allows you to focus and get the job done.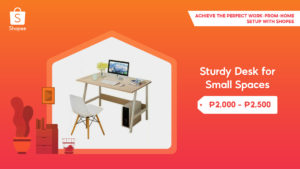 Try: Sturdy Desk for Small Spaces
An Ergonomic Chair
A good office chair is an excellent investment. It minimizes back pain and prevents injury in the long term. Get a chair that's the right height to maintain a comfortable posture. Remember, with less pain, there's more focus!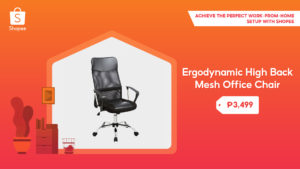 Try: Ergodynamic High Back Mesh Office Chair
A Good Lamp
Lighting in the work environment has a significant effect on productivity and concentration. The ambient light needs to be bright enough to read comfortably. Choosing the right kind of lighting prevents the risk of eye strain, headaches, and fatigue. Natural light is the best, but a desk lamp ensures the area is well-lit for ultimate productivity.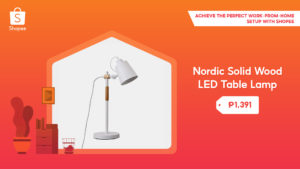 Try: Nordic Solid Wood LED Table Lamp
An External Monitor
A wide external monitor or a dual monitor setup means more space for all the tabs on the screen. Make sure to get one with high resolution and to keep the monitor height at eye level to prevent back pain from too much slouching.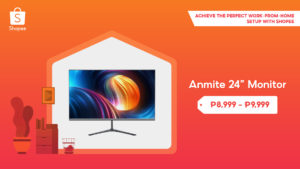 Try: Anmite 24" Monitor
A Fast and Reliable Router
Working from home means the intense usage of a reliable internet connection. Faulty connections are extra frustrating, especially during video calls. With more people using the internet at home, a good router can boost connectivity and productivity.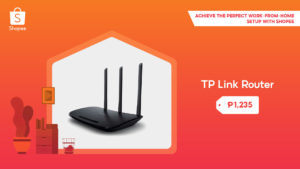 Try: TP-Link Router
Making these small changes makes a huge difference in productivity and quality of work which eventually leads to less stress and more motivation to enjoy what the new normal brings.
With these office accessories and furniture, it is now possible to set up the perfect work-from-home office. Shopee provides a variety of items to choose from. In addition to that, shoppers can enjoy freebies and exclusive discounts when they use ShopeePay as their mode of payment.
Check out also the ShopeePay Special Promotions
From July 24 to 31, users can win cash prizes, earn ShopeePay credits, and claim vouchers and Shopee coins with ShopeePay special promotions.
Regular ShopeePay users: ₱10,000 cash prize and ₱1,000 worth of ShopeePay credits
New ShopeePay users: ₱10,000 in cash prize and ₱1,000 worth of ShopeePay credits.
Bills Payment: One lucky winner of ₱10,000 when they pay their bills via ShopeePay. They need to spend at least ₱800 to join the raffle.Promo duration is from July 24 to 29.
Here's How to Activate ShopeePay:
– On the "Me" tab in the Shopee app, tap "ShopeePay" then "Set Up ShopeePay"
– Enter your personal information and the check your phone to receive the One Time Password (OTP)
– Create and confirm your ShopeePay PIN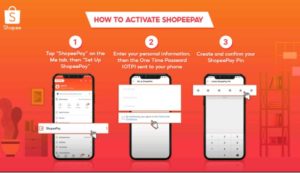 How to Use ShopeePay
– Before being able to pay for any purchases, you need to top up your ShopeePay wallet.
– Top up your ShopeePay wallet
– Tap "Top Up" and select the denomination
– Pay for your Top-Up via the available payment centers/options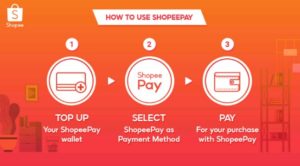 Once Shopee confirms your payment, the Top Up amount will automatically enter into your ShopeePay wallet. Now your ShopeePaywallet is ready for you to use!
– Select ShopeePay as Payment Method
– After checkout, tap "Payment Option"
– Tap "ShopeePay" as the payment method
– Pay for your purchase with ShopeePay
– Tap "Confirm" to use ShopeePay for your purchase
– Your ShopeePay balance will immediately deduct the paid amount.
You can learn more about ShopeePay on this link https://shopee.ph/m/shopee-pay