Christmas is the perfect time for surprises and gifts. This time around, Kimberly-Clark's Huggies® brand comes with both as it welcomed actress and first-time mom Anne Curtis and her daughter Dahlia as their newest endorsers. Alongside the announcement was the introduction of a special holiday gift pack aimed to help moms and babies in need.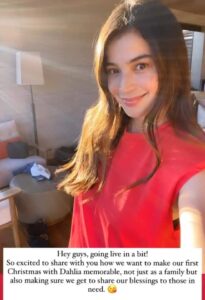 Introduced via Facebook Live hosted by Patty Laurel-Filart, Huggies revealed Anne and Dahlia as moms' Secret sANNEta and Dahlia ReinDEAR this Christmas season; bringing with them a specially curated Secret sANNEta gift pack as part of its ongoing Buy 1, Get 1, Give 1 promo.  
Starting December 20, every purchase of one (1) case of Huggies Dry Pants comes bundled with one (1) Secret sANNEta gift pack that contains baby care essentials such as one (1) pack of comfortable Huggies Dry Pants, one (1) pack of skin-loving Huggies wipes, two (2) packs of Kleenex Facial Tissues, one (1) roll of Kleenex bathroom tissue, and one (1) Hugsy teddy bear.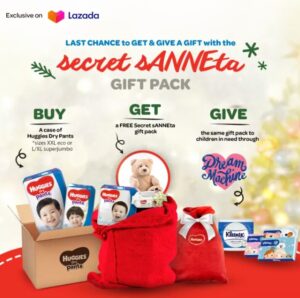 With every purchase of this bundle, Huggies and Anne will match and donate the same amount of Secret sANNEta gift pack to Dream Machine, who will then distribute it to families in need from their partner hospitals. A total of 1,000 gift packs will be up for sale. This offer is available exclusively on Lazada until January 15, 2021 or until supplies last. 
As we continue to face the challenges of the pandemic, all the more people will need basic childcare supplies, and what better way than Huggies to collaborate with Dream Machine, a platform founded by Anne that stands both as a voice against dream shaming and as an enabler to make dreams come true. One of Dream Machine's advocacies is the youth, and with this, Huggies is extending its efforts to provide comfort and care to moms and their babies, especially to those who need it the most.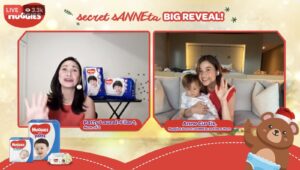 "I'm so delighted to be moms' Secret sANNEta this Christmas season," shares Anne. "My Dahlia reinDEAR has been a Huggies user even before we were welcomed in the family, so we feel so grateful to be a part of this special Buy 1, Get 1, Give 1 promo. I hope everyone is as supportive to reach our 1,000-donation goal for Dream Machine's partner hospitals." 
"Huggies continues to put forward its goal of being the parenting partner, adds Brian Duruin, Head of Marketing, Kimberly-Clark Philippines, Inc. "We should all uplift each other as we remain hopeful for the coming year." 
Since the start of the year, Huggies has also donated over 100,000 newborn diaper packs to children's hospitals and maternity wards. They also launched the Huggies Club: Facebook Live, a five-week online forum series that aimed to guide and provide moms the reliable support system they need by connecting them to other moms and healthcare professionals to tackle relevant parenting topics and advice.  
Now, with the Secret sANNEta gift pack, Huggies affirms its role and commitment to being your trusted parenthood partner for generations to come. 
To purchase the Secret sANNEta gift pack, head to Huggies LazMall now. For the latest news and updates, follow theHuggies PH Facebook page or visit huggies.com.ph. Join the Huggies Club for free and get access to more parenting tips, as well as exclusive perks and deals!