Do you have what it takes to represent and cheer on your school in one of the Most Prestigious Design Competition in the country? Then be the AYDA TV Correspondent to usher this year's edition of the Asia Young Designer Awards.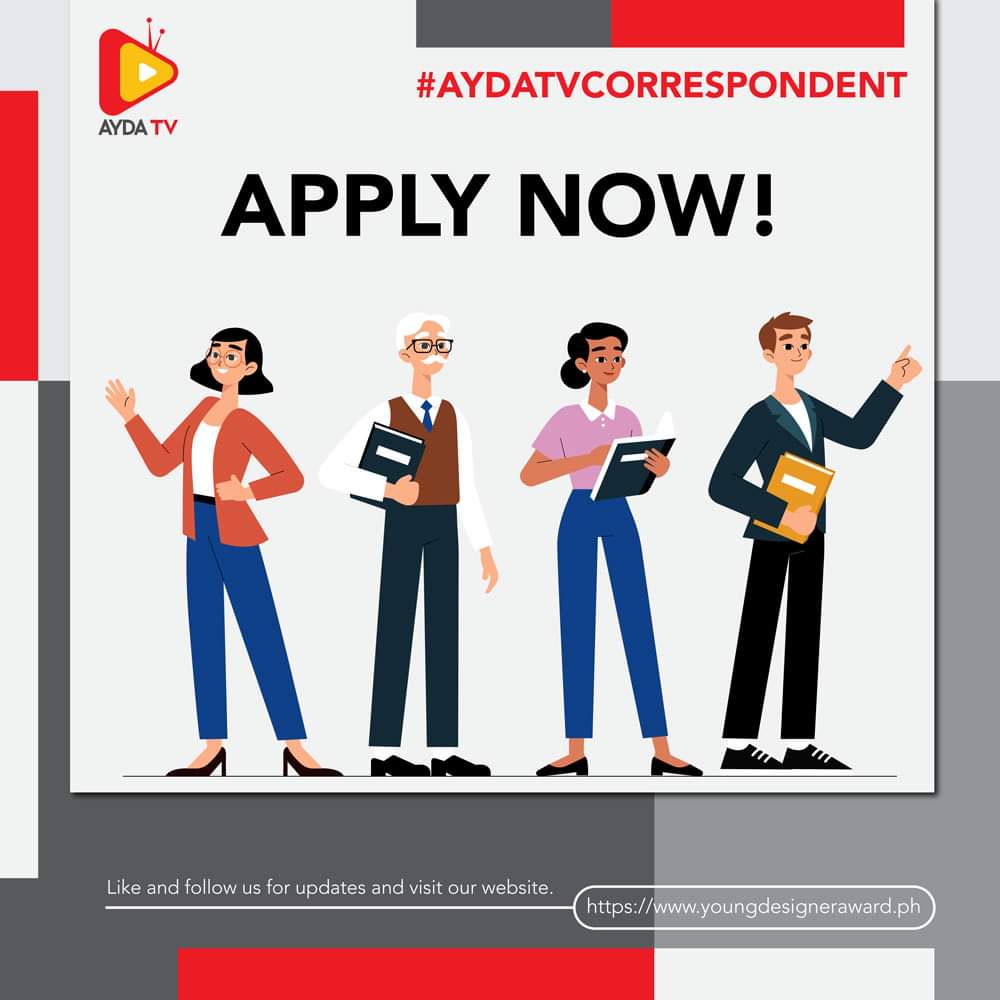 Here's the mechanics:
1. Must be currently enrolled (not limited to architecture or interior design students) from any year level. AYDA TV Correspondent "Trainees" should not participate in the AYDA Competition to avoid conflict of interest. If the ATVC Trainees are required to participate,
e.g., required plate in design class, and have successfully entered the Top 10, he or she will be exempted from the ATVC contest.
2. There will be 1 AYDA TV Correspondent Trainee per School/Department (e.g., 1 for
Architecture and 1 for Interior Design if the school or university offers both courses.)
3. The "Trainees" should be endorsed by their respective school or department.
Endorsement letters & Waivers shall be sent upon registration.
4. The AYDA TV Correspondent "Trainee" will be asked to create 3 videos with the
following content, in the most creative manner possible:
a. School Introduction, highlight, cheer
b. What does the theme mean for them?
c. Invitation/Encouragement for schoolmates to Participate
5. The video submissions will be judged according to the following criteria:
50% Content
50% Creativity
6. The Top 10 Finalists will be announced before the judges' deliberations and will have a final video task of interviewing the AYDA 2021 Finalists.
7. The successful trainee shall be named the 1st ever AYDA TV Correspondent and shall be invited to co-host the AYDA2021 Awarding Ceremony.
8. The winner shall also receive a cash prize of PhP 15,000.
9. To register, kindly go to this site bit.ly/AYDATVCorrespondent and fill up the
application form. Further details shall be given upon signing up.
So what are you waiting for? Register na! For more updates check out the Nippon Paint AYDA social media.
Facebook – https://www.facebook.com/nipponpaintaydaph
Twitter – https://twitter.com/aydaph
Instagram – https://www.instagram.com/nipponpaintaydaphl/
YouTube – https://www.youtube.com/channel/UCl1bcAyX7GN-IpEaAh1BoNA